tldr
Your tan will last longer if you exfoliate, drink lots of water, and moisturize your skin before going outside to get a tan. If you can, it's best to apply a tan-boosting body lotion 5-7 days before sun exposure so that your skin will be loaned up with the antioxidants it needs to produce more melanin.
Summer is just around the corner, and getting a gorgeous glow is on everyone's mind. But you may have a burning question: 'how long does a tan last?' 
Well, due to the natural turnover of skin cells, you can anticipate your tan to fade in roughly 7-10 days, or even less if not cared for properly. Before learning about how to extend the life of your tan, let's first get into what is a tan?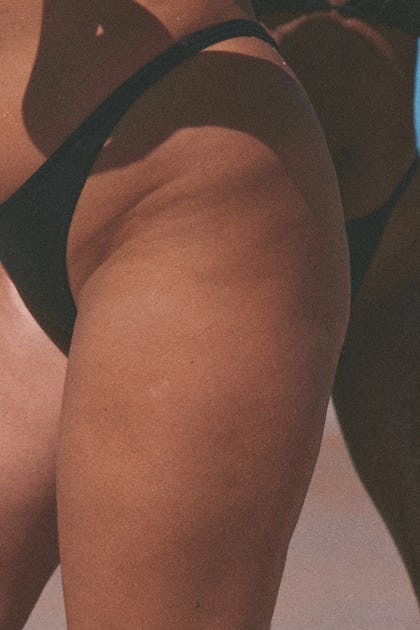 What is the Difference Between a Tan and a Sunburn?
When your skin is exposed to sunlight, it creates melanin, a pigment that darkens the skin to help protect it from dangerous UV rays. The skin tans due to this response, but it can also cause burning.
When the UV light hits your skin, it triggers a series of oxidative reactions that basically begin an inflammatory avalanche in your cells. This is what causes redness, irritation, and (sometimes) peeling. By hitting the inflammation source with soothing plant extracts and calming peptides, you can quickly calm and restores irritated skin. Over Exposed is great for this!
How long your tan lasts depends on your skin type. Those with dark or olive complexion will get a tan that lasts longer than those with pale or beige skin. It will also depend on how regularly it regenerates.
How to Extend the Life of Your Tan
1. Exfoliate before tanning outside.
If you want a long-lasting tan, exfoliate your skin before to eliminate tanning dead skin cells. (This will help in the long run, because that gorgeous tan you worked so hard for won't scrub off after your first shower.) Exfoliation smoothes your skin and creates an even surface that allows your skin to soak up all of your tanning lotion or SPF.
**Side Note: Take a few minutes to review the products you use regularly. You may not realize it, but some of them might be removing your tan prematurely,. Help your tan last longer by avoiding body scrubs after you tan. Also, watch out for acne treatments and ingrown hair products containing acids. These products can cause your skin cells to shed more quickly, taking your tan with it.
2. Moisturize Your Skin to Prevent Shedding
As we mentioned before, when your skin is exposed to UV rays, it produces melanin, which acts as a protective shield. After spending time in the sun, you can prevent the skin from shedding off by applying a hydrating moisturizer. We love High Tide In Shower Moisturizer because it works with the water on your skin to lock in hydration. Plus it contains passion fruit oil, that enhances skin elasticity and firmness.
3. Drink Lots of Water to Keep Your Skin Hydrated
If your skin is a little dry, it just won't tan as well as it could. When your skin is hydrated, it is plumper, smoother, and more elastic. This will allow for a longer-lasting, deeper tan. Make sure you stay hydrated on the inside by sipping plenty of water to ensure your cells are well fed - including those that boost your tan on the skin's surface. Keep a water bottle handy at all times both while in and out of direct sunlight.
4. Wear Sunscreen Daily
To avoid burning, you need sunscreen with an SPF of at least 20 every day. Sunburned skin is damaged skin that typically peels, causing your tan to fade even faster. Want to tan while you protect your skin? Smart Screen extends the quantity of melanin in your skin, so you can spend less time in the sun, and also contains SPF 22, to protect your skin.
5. Avoid Bathing and Swimming in Hot Water
Avoid hot showers and baths after tanning, not only because the heat may be uncomfortable on your skin, but also because hot water will cause your tan to fade faster. You can double down on moisture by using a hydrating cleansing oil to keep your skin smooth and lock in that color! It does not contain sulfates that are commonly found in most body washes, so you can be sure that it won't strip your tan!
Bonus Tip: Want to Appear More Tan? Try wearing neon colors or white!
Bright colors can help complement the warm hues in your skin, which can give your tan a lil extra boost.
What's left? Well, just to prepare yourself for friends and family asking where you went on vacation!... even if it was only your own backyard!