tldr
DO: Exfoliate
DO NOT: Use a Tanning Bed
DO: Calculate How Much Time You Want to Spend in The Sun
DO NOT: Skip Out on Sun Protection
DO: Stay Hydrated
DO NOT: Fall Asleep Under the Sun 
DO: Avoid Tan Lines
DO NOT: FORGET TO MOISTURIZE 
It's no secret that there is a lot of pressure when it comes to wanting to look 'perfect' in your wedding dress. A subtle bridal glow can help you feel less washed out in your gown, even out your skin tone, and brighten up your teeth, naturally.
If you're heading down the aisle shortly, you may be considering your tanning options, including indoor tanning, spray tanning, and self-tanners. The problem with these methods is they are extremely dangerous, can result in uncomfortable sunburns, or risk leaving orange stains on arguably the most IMPORTANT outfit you'll wear...ever! (Not to mention, getting naked in front of a stranger is probably not very high up on your to-do list.)
Fear not, Tropic Labs is here to give you our expertly curated tips and tricks to achieving the perfect tan for your wedding...minus the streaks, sun damage, and self-tanner smells.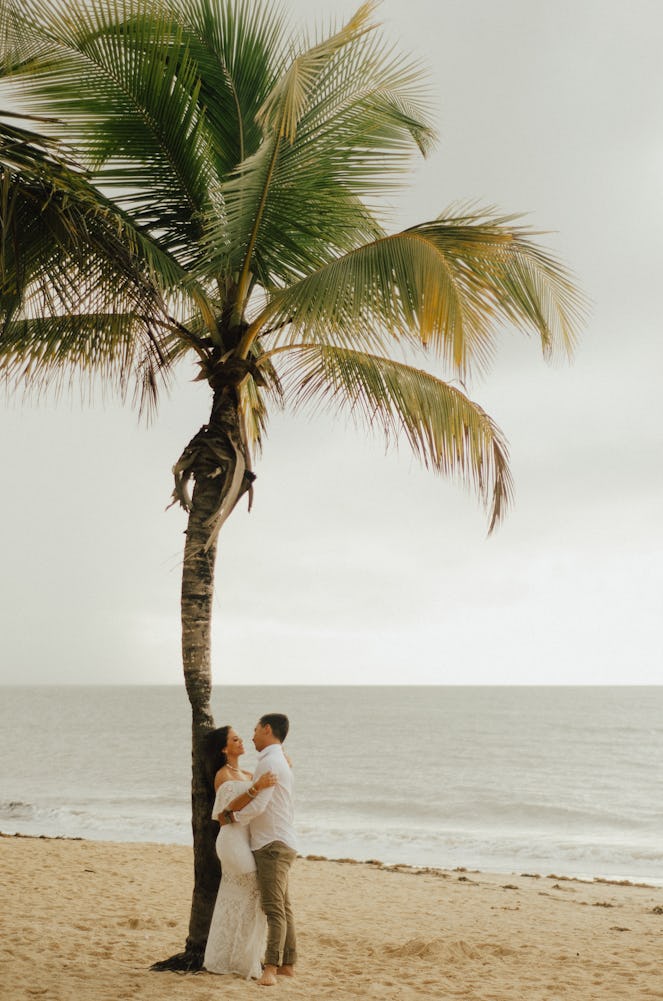 DO: Exfoliate
Just like makeup, your suntan will look more even and seamless if you start with a blank canvas. One of the best ways to achieve this is with an exfoliant; be it a loofah sponge, dry brush, or body scrub. This will speed up the process of shedding dead cells and removing dirt and grime that are hidden in your pores so that you can lay the foundation for a beautiful tan.
DO NOT: Use a Tanning Bed
We suggest you try and avoid tanning booths and beds that use high amounts of damaging ultraviolet light. Several states have prohibited the use of tanning booths for people under 18 and some countries, including Australia, have banned tanning salons altogether! This is mainly because tanning beds produce a high amount of UVA rays, which penetrate the skin, breaking down the collagen and elastin in the upper layers of the skin, and have been linked to permanent damage, including premature aging, cataracts, and immune suppression. 
DO: Calculate How Much Time You Want to Spend in The Sun
The first step in your golden glow journey is to plan how much time you should be spending in the sun each day leading up to your wedding. This varies from person to person, depending on your skin type and the deepness of color you're trying to achieve. There are also a variety of factors that should be considered when choosing how long to spend in the sun; such as your climate, how close you are to the equator, and your natural skin color. Speaking of color, you'll also want to consider the complexion of your bride or groom-to-be and stay mindful not to create too much contrast with your tan. For bridal tans, we don't recommend tanning the day before your wedding, but instead building up your tan over a few weeks leading up to the big day.
*Tropic Tip*: Using a tan accelerator like Base Tan: Tan Optimizing Body Lotion can help stimulate melanin production in your skin by 'feeding' it the essential amino acids it needs to boost melanin production. We recommend applying Base Tan at least Tan 5-7 days before sun exposure so you can get a darker tan in less time. Take a peek at our UV Index Guide, to learn about what UV levels are best for tanning.
DO NOT: Skip Out on Sun Protection
Gone are the days of slathering yourself in baby oil and waiting for that painful sunburn to "turn into a tan." 
For the best tan with the least risk of burning, we recommend using Smart Screen, our water-resistant broad-spectrum, mineral sunscreen. Smart Screen is loaded with skin-loving antioxidants that work to enhance your bronze without sacrificing vital sun protection. Unlike other messy self-tanning lotions, Smart Screen contains absolutely NO BRONZERS, so you can be sure that the gorgeous glow you'll achieve is 100% your own! 
*Tropic Tip*: Did you know that the sun can penetrate through the thin skin of your eyelids?! We'd recommend tanning goggles, such as the ones found here to protect your corneas and avoid the raccoon-eye tan lines that are possible when wearing regular sunglasses.
DO: Stay Hydrated
While sipping margaritas while laying out sounds like a hell of a good time, alcohol can be dehydrating and deplete your skin of its moisture, which makes it more likely to burn. Make sure you are continuously drinking water before, during, and after your tanning session to prevent your skin from becoming dry and flaky; which can make your tan look splotchy and uneven. 
DO NOT: Fall Asleep Under the Sun 
There is something almost intoxicating and euphoric about warm sunshine on your skin and we understand it's easy to take a quick nap while laying out under the sun. However, depending on the position you fell asleep in, this can cause all sorts of uneven lines and potentially burning. We encourage you to instead read a magazine, listen to some music, and most importantly change positions frequently so you don't burn one part of your body. 
DO: Avoid Tan Lines
We get it. That strap-y bikini you bought for your honeymoon is JUST BEGGING for you to try it on, but you must resist the urge to sport it around while working on your bridal suntan! Instead, opt for a less complicated swimsuit (if not your birthday suit) when getting your suntan on! Keep in mind that almost anything you wear will leave a tan line, including swimsuits, sunglasses, and sandals. 
*Tropic Tip*: Try on your wedding dress and have a friend use an eyeliner pencil to mark off where the dress ends and your skin begins, especially around the neckline. Then, try on a bathing suit that best matches these marks, and go tan in that suit EXCLUSIVELY. This will help you get tan in all the right places while avoiding awkward tan lines! For example: if your wedding gown is strapless and your wedding is in the summer, then your new best friend is the bandeau style swimsuit! Any lines that are leftover can be pointed out to your makeup artist and covered in a jiffy!
DO NOT: FORGET TO MOISTURIZE 
Last, but certainly not least, we'd recommend following every period of sun exposure with an antioxidant-rich, soothing after-sun lotion. Enter: Over Exposed Rapid Recovery Gel! When your skin receives high amounts of  UV exposure, it's essential to recharge it with powerful peptides like those found in our Tropical Phytocomplex. Seaberry Fruit extract and Tasman Pepper extract are known too quickly and effectively reduce redness, soothe irritation and restore the skin's moisture using natural nutrients.
*Tropic Tip*: When showering after your suntan, we suggest washing gently (not exfoliating) with a soft washcloth and a moisturizing, sulfate-free liquid shower wash, as not to irritate your skin. Check out Washed Up, our multi-tasking body cleanser that washes away sweat and dirt without stripping your skin of essential moisture.