tldr
All of our packaging is fully curbside recyclable
Our bottles are more compact and use less plastic. 
In most areas, our cardboard boxes, plastic containers, caps, and pumps, can be recycled curbside.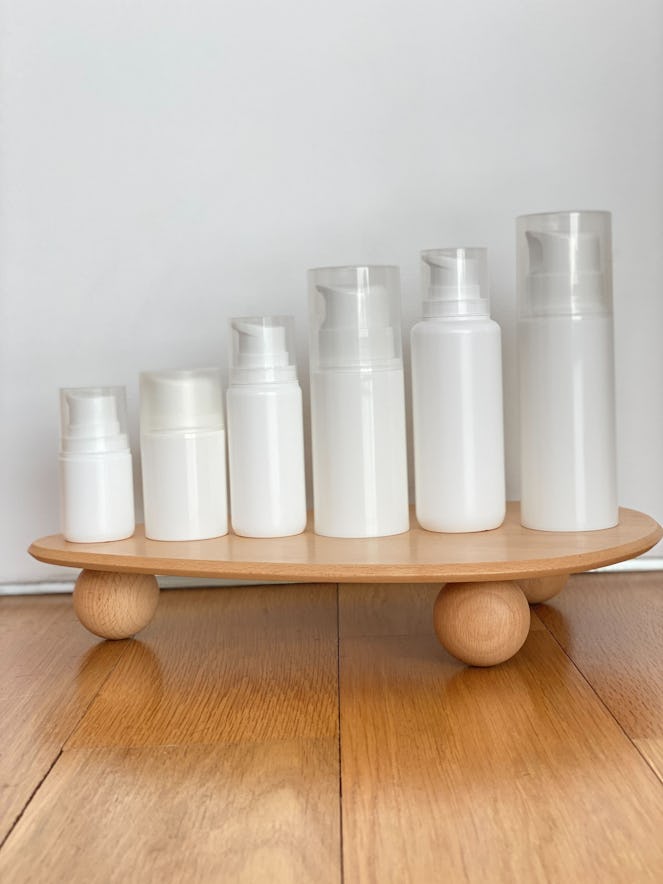 Recycling isn't just for the kitchen.
Tropic Labs is proud to be a mover-and-shaker in the beauty industry, and we are leading (and learning) about sustainable packaging in meaningful ways.
To start off, all of our packaging is fully curbside recyclable. We strive to eliminate all excess and unnecessary waste wherever possible. 
Our packaging is pretty unique. It uses less plastic than most commonly-used body care bottles and has a completely metal-free pump, which means no more pulling apart pumps to locate tiny metal springs. Once you've finished your body care product, the whole thing can be tossed in your curbside recycling! It's that easy.
In fact, our bottles are more compact and use less plastic. Since these bottles are smaller, it has a lower plastic footprint, which trickles down to our overall costs so that we can pass these savings down to you.
Why are Tropic Labs still using plastic packaging? Have you explored more eco-friendly alternatives?
For a long time, Tropic Labs looked for a more eco-friendly material to replace plastic in our packaging. But the truth is, plastic is a magical material with an impressively low environmental footprint. The problem with plastics doesn't lie in the material itself, but in the way we manage it. When disposed of, recycled, or offset responsibly, the material proves to be much lighter on the environment than any other mainstream alternatives.
Glass, tin, aluminum are all options that we carefully evaluated for scalability and environmental impact but to no avail. Trucost estimates that swapping plastic for alternatives such as glass, tin or aluminum would increase environmental costs globally from $139 billion to $533 billion — that's taking into account ocean damage, end-of-life management, transportation, production, and material & energy recovery. We quickly realized that the production of these materials causes so much more damage for our planet than the plastic life cycle. The explanation behind this is multi-faceted, but a lot of it attributes to the higher weight of alternative packaging materials compared to plastic, thus dramatically increasing their production and transportation emissions. 
That being said, we do believe that there is always room for improvement and we are working with rePurpose Global to reduce our plastic packaging wherever possible and explore the switch to incorporating more recycled content as well. Giving plastic waste a second life through recycled content will help bolster demand for it, close the loop, and contribute to achieving a circular economy model where no waste ends up in our nature.
How to recycle Tropic Labs packaging?
In most areas, our cardboard boxes, plastic containers, caps, and pumps, can be recycled curbside. 
STEP 1: Remove the plastic labels from the outside of the bottles and discard this piece in the trash.
STEP 2: Clean any remaining product out of the bottles and tubes. Give it a quick rinse and make sure to dry it completely, to avoid any liquid transfer onto other recyclable materials
STEP 3: Separate each component, to make it as simple as possible for the recycling facility. This means removing caps from the tubes
STEP 4: Drop them in your recycling bin. It's as easy as that